Littlest Petshop : Un monde à nous ! (also known as Littlest Pet Shop: Notre Monde de Pet Shop in the shorts) is the French dub of Littlest Pet Shop: A World of Our Own.[2]
Description
TiJi
La belle bande de mini animaux t'emmène à la découverte de Paw-Tucket, leur monde rien qu'à eux !
Bienvenue à Paw-Tucket, un monde réservé aux animaux de compagnie. Pour y accéder, il faut passer par la porte magique qui sépare le monde des humains et le monde des Petshops. Trip, Quincy, Jade, Roxie, Edie et Bev partent à la découverte de ce nouvel univers en quête d'aventures, de rires et surtout de nouvelles amitiés !!
Translation: This beautiful group of mini-animals takes you to the discovery of Paw-Tucket, their world just for them!
Welcome to Paw-Tucket, a world reserved for pets. To access it, you have to go through the magic portal that separates the human world and the Pet Shop world. Trip, Quincy, Jade, Roxie, Edie, and Bev discover this new universe in search for adventure, laughter, and especially new friends!
Gulli
Découvre Paw-Tucket, un monde d'animaux créé par les animaux, pour les animaux. Un vrai paradis auquel ils peuvent accéder grâce à un portail magique qui s'ouvre dans le monde des humains.
La-bas, c'est toujours la fête ! On y trouve des pistes de ski, des salons de beauté, un bateau de croisières... le rêve absolu !
Mais plus que tout, Paw-Tucket c'est l'endroit où les animaux de tous les milieux se rencontrent ! Notamment Roxie, Jade, Trip, Quincy, Edie et Bev, les personnages principaux de ton nouveau dessin animé préféré.
Viens t'amuser avec eux, tu vas adorer le voyage !
Translation: Discover Paw-Tucket, a world of animals created by animals, for animals. They can access a real paradise through a magical portal that opens up in the human world.
It's always a party there! There are ski slopes, beauty salons, a cruise ship... it's the absolute dream!
But more than anything, Paw-Tucket is a place where pets from all over the world can meet up! Including Roxie, Jade, Trip, Quincy, Edie, and Bev, the main characters of your new favorite cartoon.
Come have fun with them, you'll love the trip!
Cast and characters
Shorts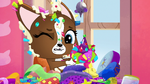 "Well it started out as... and then it sorta changed into a... at this point I don't really know."

This section is currently incomplete. More details can be added to expand it. Please help the Littlest Pet Shop: A Wiki of Our Own by making this section longer.
Series
Episodes
Broadcast
Littlest Petshop : Un monde à nous ! premiered on Tiji in France on April 9, 2018 at 12:50,[1] 5 days prior to the U.S. release. It also premiered on Gulli on September 2 at 13:30.
Trivia
This was the first dub to be released.

This is also the first dub to feature localized content.

Paw-Tucket is localized as "Paw-Thucket."
References
External links