Hidden Treasures & Guilty Pleasures (also known as With Friends Like These) is the 39th episode in season 1 of Littlest Pet Shop: A World of Our Own.[2]
Synopsis
Edie and Gavin discover a mutual enthusiasm for hokey, old pirate movies and for role-playing pirate culture; they build a friendship over their shared interest, but decide to keep it a secret from their respective groups of friends.
Characters
Plot
"Ooh, it's Demon Vacuum 3: The Suctioning! Let's skip to the good part."

Spoiler warning! This section contains plot details about an episode.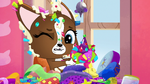 "Well it started out as... and then it sorta changed into a... at this point I don't really know."

This section is currently incomplete. More details can be added to expand it. Please help the Littlest Pet Shop: A Wiki of Our Own by making this section longer.
Broadcast
In Ukraine, "Hidden Treasures & Guilty Pleasures" premiered on September 20, 2018 on PlusPlus at 15:45. In Canada, the episode is set to premiere on October 13, 2018 on Treehouse TV at 5:32 PM.[3] In the United States, the episode was released on iTunes and Google Play one day before it premiered on November 10, 2018 on Discovery Family at 12:00 PM EDT.[4]
References
Community content is available under
CC-BY-SA
unless otherwise noted.