Clear the Fear (also known as Fear Factor) is the 27th episode in season 1 of Littlest Pet Shop: A World of Our Own.[2]
Synopsis
Quincy, tired of feeling afraid of so many things, signs up for a seminar on conquering fears, to be held at the Chill-Out Inn; Trip accompanies his buddy, figuring it will be a good opportunity to get in some skiing.
Characters
Plot
"Ooh, it's Demon Vacuum 3: The Suctioning! Let's skip to the good part."

Spoiler warning! This section contains plot details about an episode.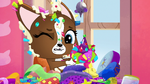 "Well it started out as... and then it sorta changed into a... at this point I don't really know."

This section is currently incomplete. More details can be added to expand it. Please help the Littlest Pet Shop: A Wiki of Our Own by making this section longer.
Broadcast
In Canada, "Clear the Fear" premiered on September 1, 2018 on Treehouse TV at 5:32 PM.[3] In Ukraine, the episode premiered on September 14, 2018 on PlusPlus at 15:45. In the United States, the episode premiered on October 6, 2018 on Discovery Family at 12:00 PM EDT.[4]
International
Trivia
From this episode onward, the Allspark Animation logo at the end of the credits is used, replacing the Hasbro Studios logo.
This is the first episode that has aired in multiple countries before the United States.
References
Community content is available under
CC-BY-SA
unless otherwise noted.